Becoming Confident, Becoming Leaders
You Are Here : Home : FOR DONORS : 2011 Year End Appeal : Becoming Confident, Becoming Leaders
How Your Gift Helps Girls • Why I Give • Donor Testimonials • Change Their World Today • Building Character • Encouraging Girls When They Need It Most

Becoming Confident, Becoming Leaders



Madeleine Albright. Sandra Day O'Connor. Hillary Rodham

Clinton. Condoleezza Rice. Before they were changing the world, they were developing their leadership skills in Girl Scouts.

Pick any field, and you'll find prominent Girl Scout alumnae. Education? Christa McAuliffe. Business? Linda Chavez-Thompson. Sports? Venus Williams. Journalism? Katie Couric. Music? Mariah Carey.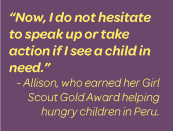 The impressive list goes on and on. In fact, an amazing 64 percent of today's women leaders in the United States were once Girl Scouts!

We're proud of our "famous formers" – because these accomplished Girl Scout alumnae are highly visible proof that the leadership we help girls tap into today pays off tomorrow.

As you know by now, Girl Scouts is so much more than cookies or camping -- leadership is built into every level of Girl Scouting. From the youngest Daisy Girl Scout who earns her My Promise My Faith award to the teen who achieves Girl Scouts highest honor, the Gold Award, every Girl Scout program she participates in is designed to help her recognize the leader within and develop the confidence to be her best.

And when a Girl Scout makes the connection that she can make a difference, the results are impressive:
Sarah kicked her love of soccer up a notch during her Silver Award project research, when she discovered that her Dublin community had no soccer program for children with special needs. Sarah worked with city officials to research similar programs, then collected equipment, created trainings, marketed her program, and ran soccer clinics to get the project underway.

Amber found the confidence to improve her fluency in Chinese well enough to convince the elders in her South Bay Chinese community to support her Girl Scout Gold Award project, an extensive campaign to encourage use of reusable chopsticks to prevent habitat destruction in China's forests.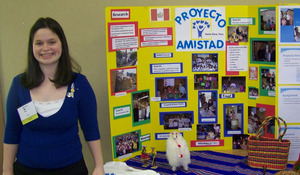 As girls discover more about themselves and their world through Girl Scout leadership projects like Sarah's and Amber's, they begin to connect in a real way, recognizing problems and seeing themselves as action takers who can improve the world around them.

"Four years ago, I went to Peru and visited my father's family – I was struck by the inequality of daily life between the rich and the poor," said Allison, a Gold Awardee from Santa Rosa. "I saw high rise apartments and upscale malls, contrasted to children begging on the street. Peru is a beautiful country with great potential. Seeing the contrasts motivated me to create a project which would help Peruvian children."

Her "Proyecto Amistad" friendship project in Peru was the culmination of Allison's longtime involvement in Girl Scouting – which included lifechanging experiences that she credits with preparing her for earning the Gold Award and life as an adult. She got her inspiration for her project after she participated in the "Ambassadors for Children" program at Sangam, a Girl Scout World Center in India.

"My experience as a camp counselor at Kamp Konocti also helped me organize Proyecto Amistad," she said, referring to the Mendocino County Girl Scout summer program where she volunteered to work with younger girls.

Allison, now attending Whitman College in Walla Walla, WA, said she became a "better observer, teacher, problem solver, and risk taker" while working on Proyecto Amistad, which required her to request donations, make presentations, and communicate with another country – often in another language.

"I learned much more than I anticipated about myself and the power of people working toward one goal," she said. "Girl Scouting has taken me places that I never thought I would go to."

Proyecto Amistad took over three years to bring to life. Allison organized a camp for children in Santa Clara, Peru that addressed children's social, emotional, and physical needs, including training mothers on interacting with their children in positive ways. Plus, she procured soy milk, rice, beans, and fresh vegetables for the local soup kitchen to help with the community's problem with anemia.

"The camp helped the children forget about their life of poverty and focus on having fun and being kids," Allison said. "The artificial barriers of poverty were lifted as we lived, played, and laughed together."

Allison, Amber, and Sarah are just three of thousands of girls here in Northern California who need Girl Scouting to help them change the world – and your support makes that possible. Click here if you'd like to make a year-end donation to Girl Scouts. Thank you for helping us create the next generation of leaders!
Why I Give to Girl Scouts: Julie Kimelman

Girl Scout board member, donor, Lake County resident

"I give my time because the concept of creating future citizens of courage, confidence and character is worth all of our efforts … I don't think of one of our girls becoming a future president of the United States. Rather, I think of each girl, and how our organization will improve her ability to make better decisions for herself.

One example that led to my commitment to Girl Scouts was listening to the projects of the Gold Award winners both within our local council and at a national convention I had the opportunity to attend. The deep appreciation of the needs of others displayed by our teenage Girl Scouts is unforgettable.

I believe the Girl Scout organization is, and can be an even greater resource in making the world a better place. Of course this takes money, and I have found it convenient to contribute a small amount each month … Only by providing funding for those girls whose parents cannot afford to pay the costs of our programs, can we exist and continue to do good work."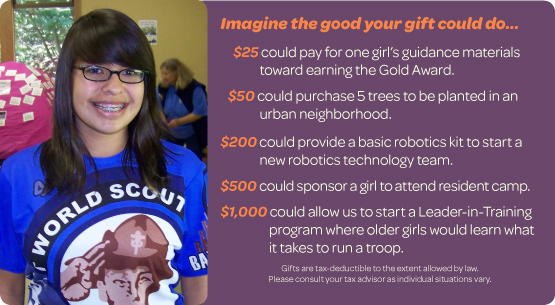 For more information about Girl Scouts of Northern California or to donate, please click here. Thank You!